Prophecy Update:
Jesus is coming! Be ready and watching!
Dear friends:
"God's judgement is coming on America soon. No matter what the size of our military, judgement is coming. Other nations may be as sinful as the United States, but no land has been so flooded with Gospel light. We are without excuse."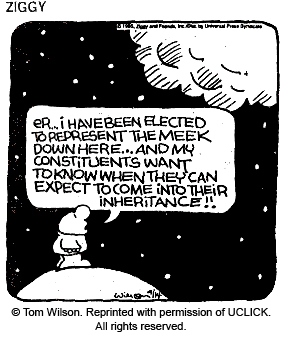 It was with a heavy heart I wrote those words. But confirmations seemed to follow. A couple of them are as follows.
On January 2, 2003 on the world wide 700 Club, Pat Robertson gave his take on what he felt the Lord was revealing to him for the U.S.A. that year. He said that when we go into Iraq he felt the Lord told him it would be a disaster. Many dead and a stunned U.S.A.!
Also he had Alice Smith of the U.S. Prayer Center on as a guest. She was trembling! And said so. She brought a stick…and broke it …. as she gave a Word from the Lord. Among other things she said, "Even as we (the United States) have broken the backs of our oppressors, God is breaking the back of our arrogance and pride. (The stick was snapped in half.) Fear will fill our land until we humbly return to God. We have disgraced the covenants of our founding fathers and our land is defiled."
Further on she read Jeremiah 5:7-19 applying it to the United States.
As I was driving on my way to my Bible study last night, by radio I heard a portion of our President's message to the nation. Yet there was a deep sorrow in my heart. I don't feel the coming engagement with Iraq will turn out as victoriously as Desert Storm. I feel that because of God's hand, something is going to go wrong.
Regarding our Lord's coming for us? I believe it is so very soon. My "guess" is this spring - or before. Time will tell.
Good athletes play hard till the sound of the gun or buzzer. Yet as they play they are wise to have an eye on the clock. So with us. "Whether, therefore, ye eat, or drink, or whatever ye do, do all to the glory of God." I Corinthians 10:31. We "occupy," make plans, yet know the game will not go on too much longer.
Sometimes also I believe our coach in heaven would have us slow down the rapid pace and take precious time with Him. In the world of the Spirit ceaseless activity is not always the way to win. ….Time alone …. Time alone with Jesus.
In Him,
Jerry

---
The Great Catching Away
by Jerry Cooney
The great catching away is often referred to as the Rapture. It is an event which either will happen soon or has already occurred, depending on when you read this. The Bible, God's book, speaks of this event in many places.
"Then shall two be in the field; the one shall be taken, and the other left.
" Two women shall be grinding at the mill; the one shall be taken, and the other left." Matthew 24:40-41
"Behold I show you a mystery; We shall not all sleep, but we shall all be changed,
"In a moment, in the twinkling of an eye, at the last trump: for the trumpet shall sound, and the dead shall be raised incorruptible, and we shall be changed.
"For this corruptible must put on incorruption, and this mortal must put on immortality." I Corinthians 15:51-53

"For the Lord himself shall descend from heaven with a shout, with the voice of the archangel, and with the trump of God: and the dead in Christ shall rise first:
"Then we which are alive and remain shall be caught up together with them in the clouds to meet the Lord in the air: and so shall we ever be with the Lord."
I Thessalonians 4:16-17
Jesus knew that the great tribulation spoken of in Matthew 24:21

"For then shall be great tribulation, such as was not since the beginning of the world to this time, no, nor ever shall be."
That this would be the worst period of suffering the earth has ever or will ever experience. For this reason He sees fit to promise His own, those who truly have accepted Him as their savior, that they will escape this terrible period and be taken to heaven before this great tribulation begins.
"Watch ye therefore, and pray always, that ye may be accounted worthy to escape all these things that shall come to pass, and to stand before the Son of man."
Luke 21:36
"Beloved, now are we the sons of God, and it doth not yet appear what we shall be: but we know that, when he shall appear, we shall be like him; for we shall see him as he is."
I John 3:2
So be assured that those who have instantly disappeared from the earth have been taken to heaven to be there with Jesus forever.
Evil men may try to get the people of earth to believe otherwise, but don't believe the lie. The wicked one, often referred to as the antichrist, will come on the world scene after the true disciples of Jesus have been removed from this earth to heaven.

"But we were gentle among you, even as a nurse cherisheth her children: So being affectionately desirous of you, we were willing to have imparted unto you, not the gospel of God only, but also our own souls, because ye were dear unto us. For ye remember, brethren, our labor and travail: for laboring night and day, because we would not be chargeable unto any of you, we preached unto you the gospel of God. Ye are witnesses, and God also, how holy and justly and unblameable we behaved ourselves among you that believe: As ye know how we exhorted and comforted and charged every one of you, as a father doth his children, That ye would walk worthy of God, who hath called you unto his kingdom and glory." I Thessalonians 2:7-12

---


How Does a Person Accept Jesus?
1.

Recognize you are a sinner, richly deserving of punishment.

Romans 3:23
"For all have sinned and come short of the Glory of God."

2.

Recognize that you can do nothing on your own to earn salvation.

Ephesians 2:8-9,
"For by Grace are you saved, through Faith, and that not of yourselves; it is the gift of God, not of works, lest any man should boast."

3.

Recognize that Jesus Christ is God in human flesh, that He led a perfect, sinless life, and died on the cross to pay the penalty for your sin.

John 3:17
"For God sent not His Son into the world to condemn the world, but that the world through Him might be saved."

4.

Pray to God right now to accept this free gift of eternal life.

Romans 10:9 "If thou shalt confess with thy mouth the Lord Jesus and believe in thine heart that God hath raised Him from the dead, thou shalt be saved."

---
JESUS IS COMING AGAIN within 7 years after

the disappearances of the true believers!

In the gospel of Matthew chapter 24, Jesus told His disciples in approximately 30 A.D. when He would return to this earth in what is referred to as the great Second Coming.

" Now learn a parable of the fig tree; when his branch Is yet tender, and putteth forth leaves,ye know that summer Is nigh: So like wise ye, when ye shall see all these things, know that it is near, even at the doors. Verily I say unto you, This generation shall not pass, till all these things be fulfilled."
Note that Jesus said the generation that would see the fig tree put forth leaves would see His coming back to this earth.
The nation of Israel ended in 70 A.D. when the Roman general Titus destroyed the city of Jerusalem and the temple. About a million Jews died in this siege and close to 90,000 Jews lived through this ordeal and were led as male and female slaves to virtually every nation on earth.
In 1948 Israel became a nation again. The fig tree (Israel) had re-birthed. Then in 1967 the fig tree put forth leaves. That is , it expanded and grew in size. Through war after being attacked, Israel acquired the Sinai Peninsula, the Gaza strip, the West Bank, the Golan Heights and all importantly East Jerusalem, the site of the Temple mount where the Temple of Solomon had been and Harod's Temple had been destroyed in 70 A.D.
We are the generation that has seen Israel come to life again. First Jesus will remove from this earth all who truly believe in Him. Secondly will follow approximately seven years of tribulation on the whole earth. Thirdly Jesus comes again in the great Second Coming defeating the wicked. Fourthly He will reign in His kingdom of peace which will last for 1000 years. Then time moves to eternity.
Our Lord Himself said,
"For then shall be great tribulation, such as was not since the beginning of the world to this time, no, nor ever shall be."
Receive Jesus as your personal Savior today. He is the only way to God.
"Jesus saith unto him, I am the way, the truth, and the life: no man cometh unto the Father, but by me."
It may be necessary for you to die as a martyr for your faith but heaven forever will be your reward. Jesus first loved us by dying on the cross at calvary in order to pay the penalty for our sins.
Then on the third day (Easter) God the Father raised Jesus from the dead in order to authenticate His Son.

---
Word for Today
"For God so loved the world, that he gave his only begotten Son, that whosoever believeth in him should not perish, but have everlasting life." John 3:16
THE WINDS OF WAR
The winds of war are blowing. Signs everywhere indicate that the times foretold by the ancient Hebrew prophets and by Jesus are almost upon this world. See Isaiah 13, 24 …. Jeremiah 25 …. Ezekiel 38, 39 … Daniel 12 …. Matthew 24 to name a few.
Jesus said the generation that would see the fig tree (Israel) "put forth leaves" (Matthew 24:32) would see His return. In 1967 in the miracle Six Day War little Israel, born in 1948, "put forth leaves" and acquired the Sinai, the Gaza Strip, the West Bank (Judea and Samaria of the Bible), East Jerusalem where the temple of Solomon, and Herod once stood (now the hottest piece of real estate on the planet) and the Golan Heights up in the north.
A generation is normally considered 40 years. 1967+ 40 comes to 2007. Between now and the possible Second Coming at that time we need to have the Rapture of those truly saved and a "shortened." We are close, close, close ! ! !
The Holy Spirit tells us through the Apostle John that early in the tribulation one fourth of the population of the planet will die. (Revelation 6:8)
I believe that the Church will be in heaven with Jesus by that time. It was our Lord Himself who instructed us, "Watch, ye, therefore, and pray always, that ye may be accounted worthy to escape all these things that shall come to pass, and to stand before the Son of man." (Luke 21:36)
O happy day!
Meanwhile we "occupy" (Luke 19:13) till He comes for us. I often pray that God will open a door for me to speak to someone about Jesus and His love. Often He answers that prayer. Even though the person may not immediately respond, a seed has been planted. Hopefully in the tribulation period they will repent and yield their life to Jesus. Then martyrdom and eternity in heaven with us.
God's judgement is coming on America soon. No matter what the size of our military, judgement is coming. Other nations may be as sinful as the United States, but no land has been so flooded with Gospel light. We are without excuse.
Pray for our leaders. Talk of a Palestinian state side by side with Israel is contrary to the Bible. God gave all that land to Abraham and his descendents through Isaac, not Ishmael.
"And I will give unto thee, (Abraham) and to thy seed after thee the land wherein thou art a sojourner, all the land of Canaan, for an everlasting possession; and I will be their God." (Genesis 17:8)

"Neither, because they are the seed of Abraham, are they all children, but, In Isaac shall thy seed be called." (Romans 9:7)
Israel may allow the Palestinians to live on their land --- as long as they behave themselves. Something their leadership is not doing now.
And Israel? Yes, God will deal with Israel too. To this day, by and large, "As concerning the gospel, they are enemies …." (Romans 11:28) God has punished Israel in the past and will do so severely in the tribulation.
Yet our task is to love that people, bless them in any way we can, and stand firmly with the word of God that the land belongs to them. Their ownership of the land in no way depends on their performance either in the past or in the present. Almighty God Himself says they are "the apple of his eye" (Zechariah 2:8)
"A deep sleep fell upon Abram …." (Genesis 15:12) when the covenant for the land was being made. God did this to show that He alone was responsible for the perpetuity of the covenant independent of the faithfulness of Abraham or his descendants.
Our Lord loves both the Jew and the Palestinian. Many from both peoples are coming to Jesus. Praise the Lord! Yet the land belongs to Israel.
At the judgement of the Gentile (non Jewish) nations after Armageddon, the reigning Christ will judge them "… for my people and for my heritage Israel, whom they have scattered among the nations, and parted my land." (Joel 3:2)
"Parting my land" among other things means a Palestinian state on Israel's land. Again, pray for our leaders. The word of God "… I will bless them that bless thee, and curse him that curseth thee; …." (Genesis 12:3) is still valid today. Let us not curse Israel by attempting to "divide" their land.
I continue to teach the books of the Bible line by line in season and out of season. Day by day there is a growing desire in my heart to pray, "Even so, come, Lord Jesus." (Revelation 22:20) Come to take your bride away.
I do believe that in looking forward to His return for us, and longing to be with Him is a form of worship. And perhaps it is a form of high worship. Something to ponder.
In Jesus,
Jerry